DuckManBoy Behind The Scenes
Thanks to everyone who has watched and shared DuckManBoy so far. It was an honour enough to be a Vimeo Staff Pick but it's now become one of Nickelodeon's most viewed International Shorts. Here's some material around the making of DuckManBoy, including a podcast interview Ian and I did with Skwigly Magazine's Ben Mitchell:
PRE-PRODUCTION:
Originally DuckManBoy started life as an off-the-cuff pitch for Channel 4's Blap series. It was a much more adult orientated version of what we pitched to Nickelodeon, involving a man-child addicted to savoury meat shakes facing up against Fat Barry, an evil pub landlord. There were a lot of things we really enjoyed about the pitch, particularly the influence of the low-budget nature of the 1960s Batman. We also wanted to make the most of the mixture of mundane and surreal that's encompassed a lot of our work.
At the time it was called Duckman. We hadn't heard of the 90's TV series of the same name. Still haven't watched it.
When we found out we were one of 8 pitches selected from over 600 submissions we set about refining the story and characters. We spent a lot of time working on the dynamic between the characters and their own motivations. Specifically, Dwayne needed to be motivated enough to drive his own plot, but still retain enough flaws to make him absurd.
A lot of the writing process was spent replacing foes with equally left-field characters who better served the plot. Originally, a crew of Nuns looked after Dwayne ("Nun&Nun&Nun&Nun&Duckman") before we pitched to Nickelodeon. We then changed them to be evil minions. The very good point was quickly made that the U.S. are particularly against the idea of religion in kids' entertainment. Ian subsequently reinvented Fat Barry as naturist-gone-insane, Richard Battenburger, ruling over an army of zoo animals. Suddenly all of the ingredients of the story were literally using themselves up, which freed up a lot more time for energy and jokes. It also meant we were making a kid's short based in a sort of nihilistic abattoir – in a good way.
The design style took it's cue from Don't Fear Death, with an eye to fit the characters in more elaborate watercolour style backgrounds. In terms of character design, Neil, started his stern life almost fully formed. He felt like the perfect embodiment of someone clinging onto their dignity but by their very nature can't. Having a daft duck's head also puts him through a kid's perspective of how adults are always trying to be adults. Neil became the irreplaceable part of the film and so the other characters started to follow his lead.
Dwayne took the longest to work out even down to his proportions. In the end I was happy with the style of scruffy kid who might turn into a stoner one day, but it would have been nice to have completely cracked his look in the way that Neil manages to sums up his character.
Battenburger was a lot of fun to design because his personality shifts so much. He quickly established himself as a flabby riff on David Attenborough with a dash of Alan Whicker thrown in. He was also an excuse to have most of the main characters wearing suits…. Maybe Dwayne should have a suit too.
CASTING:
Ian's already written about our experience of the casting and voice recording HERE. In brief, we like to prioritise specific casting so that the characters' performance can really live. Recording sessions are always the most exciting part of productions. The script, rhythm and character foibles are all set in place. It draws a line under many tweaks of the script, and it injects a huge amount of inspiration for the long manual slog of animation production. When you've captured a performance from a great cast like Rasmus Hardiker, Mike Wozniak and John-Henry Falle you feel obliged to try to match the gold they've given you.
Animation Production: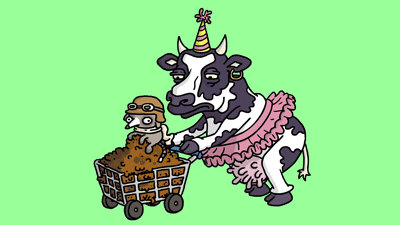 As usual all of the scenes were animated in Flash and composited in After Effects. Flash was the first animation software that I learnt and I still use it for most productions because so many other freelancers have access to it through the Adobe Suite. Which means that people are either already trained up on it or have access to it when working remotely. It's certainly never been perfect but hopefully it will be slowly redeemed now that Adobe have refocused on it as 'Animate CC'.
We had a few people working in the studio. Ross Butter was on board for the longest. He travelled down from the Highlands to to help lift a good chunk of the animation. He also designed all of the animal henchmen, including Hendrick riding a meat trolley pushed by Party Cow. We sent him off with at least a fortnight's worth of Polish cheese and a duck caller.
Other notable shoutouts go to animator Tom Lucas, who I now call the Miracle Man Of Cardiff, and Vanessa Hill who powered through the vast majority of colouring of the film.
BACKGROUNDS
The watercolour effect for the backgrounds came about as way to be more ambitious with the style but not compete too much with the central characters. The washiness of watercolour lent itself to a more stained, shabby world. The backgrounds were drawn in Flash so that it would be easier to control how characters interacted with them. The line art was then given texture and painted in Photoshop. After a search I found some watercolour brush presets designed by Michael Koran. You can download a copy of the brushes at his Stumpy Pencil blog. The results were surprisingly believable and the technique was quite forgiving. I've now discovered Kyle T Webster's watercolour brush pack which is really flexible and can produce very realistic results for the right sort of job.
Music:
Rob Connor created the music and Mark Ashworth did the sound, working in a similar way to how they did on Don't Fear Death.
For the opening sting we gave the brief of a surf/garage version of the 60s Batman theme, and Rob nailed it. Also, an impressive amount of craft went into orchestrating the bad-guy lair theme so that it co-ordinated with the jokes and different tones. A lot of the humour comes from people bigging themselves up and being immediately undercut, so demanded a lot of drops in the music and playing around with percussion.
Mark's work really brought everything alive. Like last time, we focused on a realistic soundscape so you could really feel the environment. The exception being Neil's duck-torrets. The call is actually a sample from a poor quality YouTube clip of Duck Dynasty's Phil Robertson. Mark did a great job of cleaning it up, but it still retained a dirtiness that made it really jar in the best possible way. We gave both Mark and Rob duck callers to integrate into what they were doing, but when it came to Neil there was no need. Here's Rob noodling around with the newly found lyricism of duck call samples:
Nickelodeon UK:
We can't understate how thankful we are to everyone at Nickelodeon for believing in us and letting us go through this process. Particular thanks go to Alexi Wheeler who's emphasis was on being creator lead. We started out fully expecting everything would have to change, but all of the notes and meetings were very limited and concise. The rest was left to us to express ourselves and work in the way we felt best. That was really empowering and helped us retain the personality that we were going for without second-guessing what was expected too much. Here's a present I painted for Alexi afterwards:
Here's the full cast and crew credits:
Rasmus Hardiker – Dwayne
Mike Wozniak – Neil
John-Henry Falle – Sir Richard Battenburger
CREW:
Producers – Louis Hudson & Ian Ravenscroft
Director – Louis Hudson
Writer – Ian Ravenscroft
Additional Writing – Rob Frimston
Animation – Louis Hudson, Ross Butter, Tom Lucas, Matt Walker
Studio Assistants – Vanessa Hill, Alex Jolliffe, Waheeda Rahman
Music – Rob Connor
Sound – Mark Ashworth
Dialogue Recording – Soho Square Studios
Executive in Charge of Production – Alexi Wheeler
Production Co-ordinator – Matt Kilroy
Consulting Producer – Suzanne Lang
Special Thanks to Nina Hahn, Jules Borkent
If for some reason you haven't watched it yet, here's DuckManBoy: